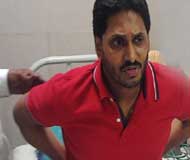 jagan's statement to doctors
"I initiated deeksha for one purpose and I will not call off till it is fulfilled. My life is not bigger than the interests of the state. How come none question the unilateral decision taken for political benefits? How can it be ignored?
If justice cannot be served to all the regions, maintain status quo. With a decision in such unruly manner, Krishna basin faces the danger of turning barren. If that happens, public will have to face severe problem as the Krishna basin exists on both regions. Besides, many interstate dispute will arise. Our service to public must he helpful and the good will be converted into votes and get us power. Working with the sole intention of gaining votes and grabbing seats is not moral politics," YS Jagan Mohan Reddy told doctors when he was asked to take fluids and call off his hunger strike.
"I have the energy to do deeksha. If you come at midnight, I can recognize each one of you. In the past, I have done Deeksha for seven days. Please do not stop my deeksha  forcibly. I will fully cooperate for the medical tests. Except water, I will not take any type of fluids. Please do not force me to have food. I have great regards for your service," Jagan told doctors
It is learnt that 500 ml of IV fluids was administered into Jagan's body
After 151 hours, doctors foil Jagan's fast.. 
A team of seven doctors forcibly induced IV fluids into Jagan's body on Saturday.Till the last minute, Jagan requested the doctors not to obstruct his deeksha. But doctors had to foil his hunger strike after receiving orders from the jail authorities and also considering his failing health.
Doctors are forcibly administering fluids into Jagan's body. Doctors are trying hard to forcibly foil Jagan's bid to continue his deeksha. They say that it will take at least three days for Jagan to recover even if fluids are induced into his body Now
Health bulletin at 1 PM: Jagan's health condition is rapidly deteriorating. The team of doctors who are treating him informed the jail authorities about the rapid deterioration of his health. In response, the jail authorities have issued a necessary orders and guidelines to the director of the NIMS to make necessary arrangements for the administration of IV fluids. Necessary arrangements have been made to administer IV fluids. We are about to start IV administration and it will be done very shortly, doctors said.NIMS doctors: Jagan in very critical shape. He can collapse any time as he doesn't even have the strength to stand. He is severely ill and requires fluids immediately. He has not been cooperating for treatment.
Body temperature, BP, Sugar, BP, Pulse levels have completely dropped. A team of eight doctors is monitoring the condition of Jagan who was shifted from Osmania Hospital to NIMS on Friday night. He's admitted at the emergency block.
Bharathi can stay with Jagan between 8 am to 4 pm: Court
The CBI court on Saturday granted permission to YS Bharathi to stay with YS Jagan Mohan Reddy at the hospital. It's a known fact that Jagan, who's been fasting for the last seven days has suffered ill health.
Fans and supporters of Jagan from across the state are flocking the hospital in large numbers.They are demanding a regular update on their leader's health condition. They are also demanding that the Central and the State government rush to Jagan's side.