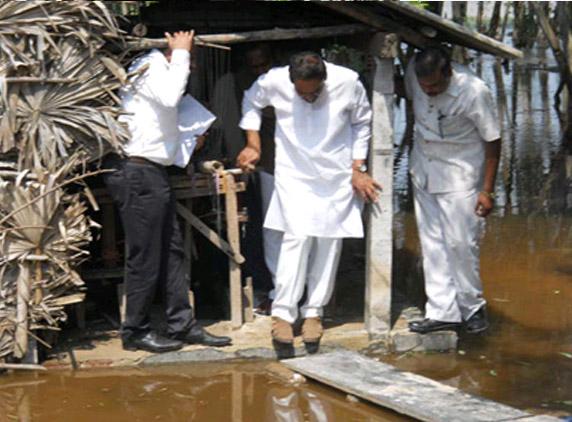 Chief Minister Kiran Kumar Reddy toured the flood hit areas of Guntur and Prakasham districts.  He talked to the flood victims in Boduvada in Parchur Mandal and Sai Colony in Chirala who were living in the waters for the last 5 days and could not do any work to earn.  He said that 20 kilos of rice will be supplied to them.
He instructed the concerned officials to make arrangements for the alternative farming.  He said that Nellore paddy seeds will be supplied to them for further cultivation.
Kiran Kumar Reddy asked for the estimates to repair the breached canals and water tanks so that the required funds can be sanctioned for the repair works to be taken up immediately.  He clarified that the farmers will get help from the Center only if the total details of survey number, name of the farmer, estimate of the damage and other details in the form.  He gave stern orders to the officials to ensure that correct information is sent.  He said that previously others got benefited in place of the persons who actually sustained loss which should not happen now.  He said that the reports should be prepared and sent within a week.
Kiran Kumar Reddy assured that an amount of Rs.70000 will be paid to the weavers to construct houses under IAY and an additional amount of Rs.15000 also will be paid to them.
He talked to the Principal Secretary and asked him to arrange for the supply of daily needs to the flood victims immediately.  He asked the Collectors to credit the accounts of the farmers with the compensation amount for the victims of Neelam cyclone within a week.