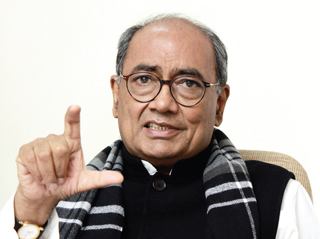 It appears as if the Congress High Command is no mood to revoke its decision on Telangana."The committee appointed by honorable Congress president, is looking into all the issues related to the bifurcation of the state of Andhra Pradesh. And all the issues are discussed among the senior leaders and I have also met the members of the NGOs, members of the students and other delegations at home. Therefore, all such issues are being discussed by the Antony committee," said state affairs in-charge Digvijay Singh.
When reporters asked him about TDP chief Chandrababu Naidu's comments on him, Digvijay said: "Chandrababu is a good friend of mine and I am grateful that he is targeting me."
He also reiterated that the decision was taken after all the parties agreed for the state bifurcation.
According to sources, Chief Minister Kiran Kumar Reddy is preparing to meet the Antony committee. He's leaving to the nation's capital this evening. Meanwhile PCC chief Botsa Satyanarayana met Digvijaya Singh and deliberated on the bifurcation issue for about 45 minutes.
Several Seemandhra ministers have already reached Delhi to meet the Committee in view of Sushil Kumar Shinde's statement that process of Telangana state will begin in 20 days.
As the Centre is firm on going ahead with the Telangana process, a few Seemandhra union ministers are preparing to resign to bring pressure on the Centre to stall the process.
Meanwhile, Telangana Congress leaders too are on the job. They are busy meeting the top brass to request them to initiate the Telanagana process at the earliest.