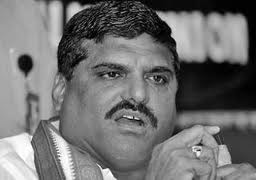 Harish Salve, Jagan's council in Supreme Court, referring union minister Kotla Surya Prakash Reddy's statement, in which he stated that "Jagan Mohan Reddy can be released from jail only if he agrees to join Congress party. He made it a point to underline the Congress conspiracy in arresting his client Jagan Mohan Reddy. Hence, CBI has told the court that the minister will be summoned to court to explain his statement.
The first person, who was alerted with these unpredicted developments is PCC President Botsa Satyanarayana. He said "Whatever Minister Kotla has stated is his own feelings and it is no way related to Congress party."
Speaking about late YSR's role in the irregularities, he said "If, late YSR is found guilty in these cases, then being Congress men we have to bow down our heads with shame."
However, Minister Kotla has took a 'U' turn on his words and challenged Jagan's council to prove that he has assured Jagan's release from jail, if he joins Congress party. He said that it is just some misinterpretation by media and nothing else. However, CBI is firm on its decision of serving summons to minister very soon. In such case, Jagan's council Harish Salve has to prove that minister's statement is genuine.