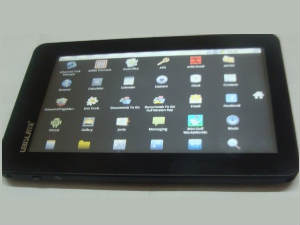 New Delhi, Jan 30: With the low-cost Aakash tablet not able to create waves as expected when the reviews came out, the low-cost marvel is however gaining a lot of attention from other quarters. The Andhra Pradesh government is understood to have sent a proposal to the Union Human Resource Development Ministry (HRD) for booking 10,000 Aakash tablets.
As per reports, the AP government intends to distribute the tablet manufactured by Datawind among its students. The state officials intend to distribute the tablets in two phases. The first phase will see the tablets being distributed to students from state universities, engineering and polytechnic colleges. The second phase will see the tab distributed among private college students.
Aakash tablets were in the news recently and highly anticipated prior to its launch when it was revealed by Union HRD Minister Kapil Sibal last year. The tablet has already received about 2 million pre-booking orders. The government also has plans to provide the tablets on rent in colleges and university libraries for students who have missed booking the tablet.