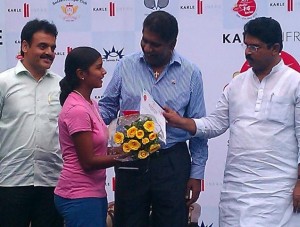 For 13-year-old Sama Sathwika, it was a moment to cherish. This young tennis talent from Hyderabad not only won the Asian-ranking under-14 girls singles title in Bangalore but her joy knew no bounds when India's tennis great Vijay Amritraj was there to present the winner's prize.
"It was a great feeling to see him for the first time. I saw him only on TV. He had very encouraging words for me," said Sathwika, a class VIII student of Nasr School.
"I reached quarters and semis of Asian-level tournaments quite a few times but winning it for the first time has made feel good and look far beyond," she said.
For someone who was taken by her father to the Baghlingampally tennis court under the tutelage of Nellore Kiran only to see that she doesn't get addicted to watching TV during free hours, Sathwika has been making rapid strides in the girls circuit with impressive performances.
This national under-12 champion, who began playing tennis at the eight, had been to Spain last year for a three-month intensive training session and also to Sydney earlier for a similar stint to keep improving her game. "It is expensive but thanks to my friends who are pooling in some sponsors, I am managing her tennis career," said her father Sama Jayaram, Inspector at Rajendranagar police station.
Sathwika, now also trained by former Davis Cupper Vasudev Reddy at NVK Tennis Academy (Madhapur), is working hard to improve her game. "I need to work on every aspect of my game including fitness, mental conditioning and improve my all-court game," says the youngster