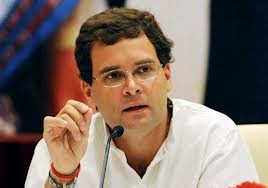 As expected, the Telangana issue dominated the meeting of Congress MPs from the state with AICC vice-president Rahul Gandhi in New Delhi on Thursday.
The Telangana Congress MPs explained in detail how the party had taken a beating in the Telangana region due to the indecisiveness of the party on the statehood issue. They told him that unless the party comes out with a clear stand on Telangana, there would be no future for the party.
Rahul, who gave them a patient hearing, told him that he would hold a separate meeting with the Telangana MPs on the issue and take a concrete decision on the statehood issue.
The AICC leader, however, asked the Congress MPs to take a cue from the party's victory in the neighbouring Karnataka and put up a united fight for the victory of the party in Andhra Pradesh. He told them that he had identified the "winning horses" in Andhra Pradesh and would announce their names at an appropriate time.