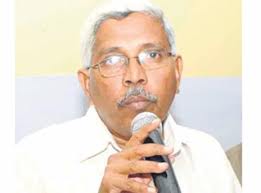 The Telangana political JAC Chairman Professor Kodandaram hoisted JAC flag at Hyderabad Gun Park calling it a day on which the Telangana people are let down. He called it a day of conspiracy against Telangana.
Kodandaram speaking on the occasion said that the formation day of Telangana will be conducted in a grand way in the State of Telangana.  He assured that Telangana State will be a realty in spite of the conspiracies against it by Kiran Kumar and Jagan.
Telangana Jagruti President Kavitha and Vimalakka and leaders of Praja Front paid homage to the martyrs of Telangana at Gun Park and they too expressed their strong belief that the fight for the Telangana State will be won.
TRS senior leader Nayini Narasimha Reddy and other party supporters hoisted black flag in Telangana Bhawan to protest the formation day celebrations of Andhra Pradesh.