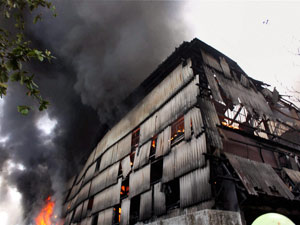 At least 20 factory workers were injured in a major industrial fire in Nagarjuna Agrichem Ltd, a fertilizer factory at Chilakapalem, 12 kms from Srikakulam, on Saturday morning.
The fire was triggered by a huge blast in the fifth block of the plant that shook the entire area around the factory at around 8.30 am.
About 600 workers were deployed in the morning shift but, fortunately, the blast occurred when they had gone out for their regular tea break from 8.30 to 9 am. Yet, those who were nearby sustained injuries.
All of them were rushed to the Rajiv Gandhi Institute of Medical Sciences (RIMS) in Srikakulam where the condition of two employees was stated to be critical.
Fire was raging until noon even as four fire tenders were battling to bring it under control. Thick black clouds of smoke could be seen rising from the fertilizer factory even from a distance of 10 kms.
While the nature of the fire was not known, in its website the company lists a series of fungicides and pesticides manufactured in the unit including Endosulfan, Tricyclazole (Fungicide), Propiconazole (Fungicide) and Profinofos (Insecticide).
District Collector G. Venkatarami Reddy rushed to the spot and arranged for other industries in the vicinity to send their fire engines.
The fire caused fear in six nearby villages in Etcherla mandal. Shops, offices and schools in the area were closed down as people began to flee for safety.