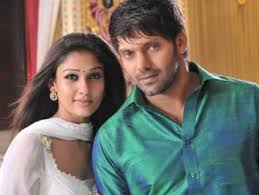 Natural beauty Nayanatara is an enigmatic heroine. She won many laurels, awards and rewards for her performances but at the same time her personal life experienced many love twists.
Media thrived on them and now even Kollywood filmmakers are turning clever to use rumors in her life for their film promos.
According to sources filmmakers of Arya-Nayan starrer Raja-Rani as a part of their film promo public invitations that Nayan-Aya are getting married on Sunday evening in Chennai misleading media. When  Media went overboard about their marriage, filmmaker apologised to all.