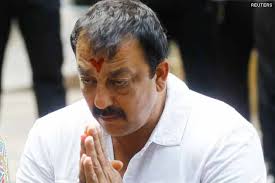 Mumbai: A Mumbai court has issued a non-bailable warrant for actor Sanjay Dutt as he had abstained from personal appearance in a case against him on a complaint by movie producer Shakeel Noorani.
Shakeel Noorani complained to the court that he had paid Rs. 50 lakhs to Sanjay Dutt to do a film in 2002. He said as he had not done the film, Noorani, he had suffered a loss of Rs. 2 crore. He demanded Sanjay Dutt to pay both. Instead of paying, Noorani had alleged that Sanjay Dutt got underworld make phone calls, threatening to kill him.
When the court admitted the case and sent summons, Sanjay chose to ignore them two times. Now the court issued non-bailable warrant, which means he would be arrested and taken to the court. It should be seen how the beleaguered actor facing prison sentence in the illegal weapons case would act.