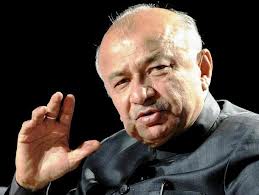 The Union Home Minister Sushil Kumar Shinde met the President Pranab Mukherjee today to give an explanation on the AP State bifurcation. Sources say that Shinde assured the President that the bifurcation will be done in accordance with Article 3 of the Indian Constitution.
It came to know that Shinde gave the above explanation to the President following the Chief Minister Kiran Kumar Reddy's letters to the President and the Prime Minister that the bifurcation is not going according to the Constitution.
Shinde also explained President that the political parties are asked for their opinion on the procedure to be followed by GoM.  The Secretary of the Home Ministry Anil Goswami wrote to 8 political parties in the State that their opinion on the conduct of the GoM should be given before 5th November.
He assured the President that the process of bifurcation will be moved forward only in accordance to the law.