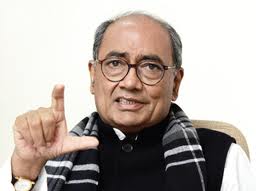 The people of the State are simply speculating on the basis of different statement coming out through media based on which they are passing remarks on one other and increasing the tension in the State.  The agitating groups, political leaders and general public also are in a confusing state because of the different statements hitting news.  As it is not clear how far they should go in the protests, protesting leaders of two regions are warring with words. Telangana leaders call it delayed action and Semandhra leaders call for the withdrawal of the decision of bifurcation.  But both blame each other and warn each other and belittle each other.  In the process of blaming political parties comment on each other and express suspicion of colliding other parties and secret pacts between them.
The AICC Chief Secretary Digvijay Singh announced today that the Cabinet Note on Telangana is made ready and the process is going ahead.  He said that the leaders of Telangna and Andhra gave their assurances that they will abide by the decision of the high command and that is the reason why the process is steadily going forward and now there is no chance of coming back.  He said once again that the Antony Committee is formed only to understand the implications in bifurcating the State but not to stop it.  He said that the bifurcation process will start after the issue is approved by the Cabinet.  He explained the process again stating that it will go to the Assembly finally after President passes it.
But the Home Minister Susheel Kumar Shinde assured that the Telangana Statehood issue is not going for the debate now.  He said that the Antony Committee's report is not finalized and until it is done, the issue will not go further.