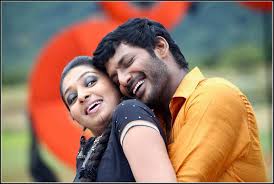 The movie "Palnadu" with Vishal in the lead role is hitting screens on Saturday where as its Tamil version is released today in Tamil Nadu.
Vishal whose full name is Vishal Krishna is a Telugu guy settled in Tamil Nadu allured Telugu audience with his movies dubbed into Telugu. Initially his successful movies brought him name but eventually he was caught in the successive flops. Although his acting talents were exhibited in the films, some of them have fallen flat at box office without his fault. Telugu Audience aware of it still remembers him as a talented hero.
Talking about Palnadu, Vishal says that he totally followed the director of the movie without putting his finger in the script or asking to add any mass masala from his side.  Vishal is still remembered for his role in "Pandem Kodi" and "Pogaru".
Lakshmi Menon paired with Vishal in Palnadu directed by Susindhran and produced by Vishal Krishna.