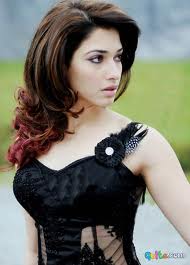 Tamannah Bhatia is not a Telugu girl but Telugu audience accepts all the heroines working in Telugu film industry as their own.  When the news came that she had to climb 14 stories of a building that too on bare foot sympathy towards her rose instantly in her fans.
But it was not a devotional vow of Tamannah to climb the steps on barefoot.  And she was not alone in that act.  It was a shooting schedule of "Hamshakal" at London in which Saif Ali Khan, Ritesh Deshmukh, Bipasa Basu, Eash Gupta and Ramkapur are also in the lead roles.  When they reached the M16 building in Central London the lift was under repair.  They all had to climb all the floors to reach the shooting spot. Tamannah removed her high heeled shoes only to be able to climb the stairs comfortably.
Outdoor shooting has to be done in the sun.  Heroes wear suits with ties and perform to the tune of the song acting with their love interest in the scorching sun with a broad smile and face emitting satisfaction.  Heroines wear minimum dress as per the dress code and act in cold weather without showing their discomfort.  They show only that expression that is to be shown as per the script.  It is acting!  Actors and actresses also take risks at many times in the fighting scenes and dancing sequences doing a difficult feat.
It is a fact that the artists are highly paid in the film industry but that is a different matter as the price depends on the demand and supply position. In spite of it, the efforts of the artists are worth appreciating.  Fans of Tamannah had only one thought in their mind "poor Tamannah" when they heard that that she climbed 14 stories bear footed.