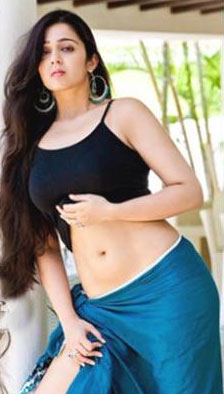 Charmi Kaur having seductive looks with an innocent baby face but with an ample of rightly shaped womanly attractions at right places to attract the opposite sex is a lucky girl to have only limited offers in the film industry so that she can look after the maintenance of her physique well.  She was never overburdened with floods of offers so that she could keep the charm.  At the same time she is not totally forgotten as she makes her appearance here and there now and then.
Charmi having only few movies of yesteryears to her credit is vexed with remembering them again and again thought of seriously going in to the busy schedule like other heroines.  She also not feeling so happy with the small roles and dance sequences in the recent movies wants to have a good time again like "Anukokunda Oka Roju", "Mantra" and "Mangala".
Charmi recently had a photo shoot and came out with 20 attractive photos one of which is circulated on the web.  She also revealed the fact that other photos are available with her manager.  It doesn't mean that one has to chase her manager for other photos but to wait till other photos posted one after another on the web.
The current photo in the circulation is also very attractive with suggestive gestures.  And it keeps all speculating about other photo luring in store for them.